Since 1971, H&M Tool & Die has been helping businesses throughout the Midwestern United States improve their operations.
With our made-to-order manufacturing equipment our customers realize remarkable improvements in product quality as well as process efficiency.
Assembly equipment, testing equipment, and poka-yoke inspection fixtures can be catered to a customers every requirement.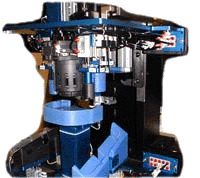 Our products are designed by our Engineering staff utilizing the latest in 3-D CAD technology to ensure all of our customers strictest requirements are fulfilled.
Along with our custom equipment design and build, our company is capable of any size production runs to fill your manufacturing needs. A large assortment of varied size, multi-axis CNC equipment allows us to perform both tight tolerance precision work as well as high speed, quick turn around production runs.
CLICK HERE to watch a video example of one of our high speed, high precision machining operations.